Impact resistant eyewear to protect your eyes in the workplace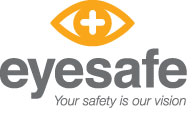 Modern Eye is a proud provider of the Eyesafe Program in Alberta. Eyesafe is a program administered by the Alberta Association of Optometrists for Alberta Employers. They make it easy and affordable to deliver the highest standard of eye health to the workplace.
Prescription and non-prescription safety eyewear is available.
My workplace is a member – how do I get glasses?
If your workplace is an Eyesafe member, please contact your Human Resources or Safety department to obtain a ticket and visit our clinic to be fitted with safety glasses! A current eye exam is needed so go ahead and book an eye exam to begin.
More information at http://www.eyesafe.ca
What if my workplace is not a member?
We have many safety eyewear options available to everyone! Featuring the leading safety eyewear brands including ARMOURx, Uvex, OnGuard and Wiley-X. Call or visit Modern Eye for more information!