The Doctor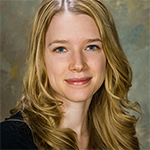 Dr. Karen Hodgins
B.Sc, O.D.
Dr. Karen Hodgins was born and raised in the Calgary area and is proud to provide eye care services to the local community.
She completed her undergraduate Bachelor of Science Degree at the University of Calgary in 2005 and her doctor of optometry (OD) degree in 2010, magna cum laude, at the Illinois College of Optometry (Chicago). She is an American board certified optometrist and licensed to practice optometry in Alberta, British Columbia and Ontario.
She is a member of the Canadian Association of Optometrists and numerous provincial associations and regulatory colleges.
Throughout her education, Dr. Hodgins participated in various externship opportunities throughout the United States including ophthalmology surgical facilities and low vision clinics in Illinois, a vision therapy specialty practice in Wichita Kansas, and a veterans hospital in Tennessee.
Dr. Hodgins' primary areas of interest include binocular vision, contact lenses and ocular disease. She is passionate about the profession of optometry and enjoys mentoring and providing job shadow opportunities to students.
Dr. Hodgins is proud to partner with the University of Calgary's Faculty of Medicine to provide family medicine residents with a day of primary eye care training through the Family Medicine Resident Program. Optometrists share their expertise on diagnosis and treatment of primary eye care issues and the use of specialized diagnostic equipment.
Excited about the opportunity to serve the community in which she lives, Dr. Hodgins acquired Montreux Family Eyecare from the previous owner-optometrist in September 2017.
She is also the founder and owner of Campus Vision, an on-campus optometry clinic at the University of Calgary, University of British Columbia and University of Western Ontario.